Warm Tip: If you want to know more information, like quotation, products, solutions, etc., please Click here ,and contact us online.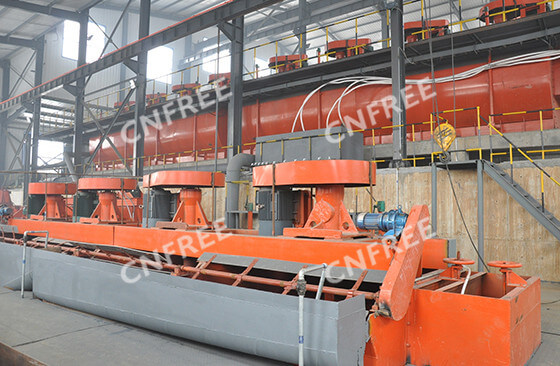 Project Introduction
The original plant produced poor economic results due to inappropriate capacity, low raw ore grade and concentrate yield, and high product costs. It adopted two-stage open-circuit crushing process where small-scale crushing equipment was used and one-stage closed-circuit grinding process comprising ball mill and single spiral classifier. In the crushing stage, the product was coarse in size, which violated the principle of crushing more and grinding less. In the grinding stage, the grinding fineness was -200 mesh (92%), meaning that energy consumption was large and affected separation indices. The grade of final molybdenum concentrates was 39.58%. Compared with other similar projects, the concentrate grade was relatively low.
Flotation Process
After consulting with YANTAI CNFREE MINERAL PROCESSING REAGENTS CO., LTD, it was decided to adopt the process:One-stage open-circuit crushing + two-stage grinding and classification-prioritized flotation and separating tungsten from flotation tailings + tailings disposal. During the flotation process, it use the CNFREE flotation chemicals and got good effect.
Process Indicator
As a result, the grade and recovery of molybdenum flotation concentrates were 45% and 85% respectively, while those of tungsten flotation concentrates were both 65%. Comprehensive analysis showed that the project was relatively lucrative. The project fully tapped into the mineral resources and ensured environmental protection through solid waste recycling.