Warm Tip: If you want to know more information, like quotation, products, solutions, etc., please Click here ,and contact us online.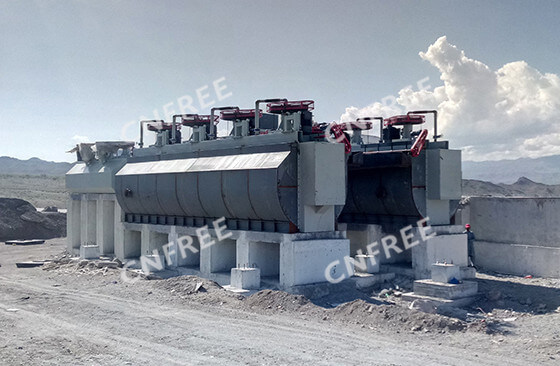 Project Introduction
The copper flotation plant in Pakistan has a processing capacity of 1500tpd. The raw ore was characterized by simple composition. It consisted of metallic minerals (copper pyrite and pyrite) and non-metallic minerals (quartz and chlorite). The multi-element analysis results showed that Cu was the valuable element. The Cu grade of the raw ore was 0.80%.
Flotation Process
After consulting with YANTAI CNFREE MINERAL PROCESSING REAGENTS CO., LTD, it was decided to adopt the process: two and half-stage closed-circuit crushing + one-stage closed-circuit grinding + flotation process of one-stage roughing, two-stage scavenging and two-stage concentration + two-stage mechanical dewatering. During the flotation process, lime was used as the regulator, xanthate and Z200 was used as the collector. The raw ore was ground to -200 mesh (68.4%), XCF/KYF flotation cells were adopted to roughing and twice scavenging, BF flotation cell was adopted to twice concentration.
Process Indicator
Finally, the grade of copper concentrate was 20.780%, and the recovery rate of copper was up to 90.05%, which exceeded their expectations.Since then, they have established a long-term partnership with CNFREE.